The Furgenn Lift, on the boarder between Cervinia and Zermatt is probably one of the most iconic "lost lift" of the west side of the Alps.
The funicular was firstly built in 1950 and kept functioning for over 40 years. The cabins had a capacity of 25 people each, linking Plan Maison with the Furgenn Crest, at a hight of 3.486 m.
The over 1000 meters of vertical hight were reached with a completely suspended cable system, 2,5 km long. Making this lift one of most audacious ski transport project of the time.
The top lift station, still visible today, was equipped with a traditional italian style coffee bar, were skiers were able to get what the italians call "il goccio del coraggio" (the drop of bravery: coffee added with a spirit of choice). Back then health and safety wasn't exactlyt how we see it today and a little espresso with grappa would go a long way.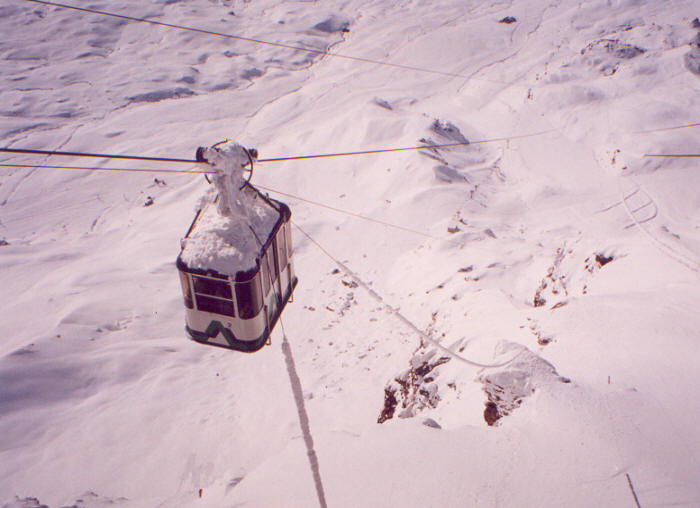 The ski slope would drop pretty vertically from the lift station and follow the crest towards the beloved Matterhorn, enabling skiers to be close to the boarder between the Switzerland and Italy.
Because of the exposure of the slope and the difficulties of bringing grooming machinery, the piste was often covered in fresh snow or moguls.
In 1993 Cervino Spa, the lift company responsible for the ski lifts in the Cervinia area, decided to shut the Furgenn lift for good, after the rupture of a cable due to ice formations during the night. The decision was taken following the quotes for the repairs, considered too expensive. The difficult slope wasn't attracting as many skiers as auspicable and the top station was in need of a complete structural rennovation.
Some in Zermatt still tell stories of feeling the building vibrating (if not shaking) everytime a gondola would reach the top…
At the time the fashion for offpiste skiing wasn't anywhere near what we see today. As a matter of fact, the last 10 years have seen a constant growth in the market, making many wonder if, one day, the re-opening of this amazing lift will be possible.
On the above pic it's portrait the very top of the Cervinia nr.9 slope, leading people down the Furgenn Crest. Later on the very first part of the run was modified and it was possible to reach the ski area by an underground tunnel.
In the below video, dated 1968, it's possible to see the bottom section of the same Furgenn black run and how close one could get to the good old Cervino/Matterhorn.
F.S.